North Delta has a rich heritage and sustainable future.
Bordered by the Fraser River, the vibrant municipality encompasses miles of walking and cycling trails, beautiful beaches, multiple golf courses, nature reserves and lush farmland. It is also home to the world-renowned Burns Bog, the largest urban peat bog in North America. A wealth of shopping and recreational facilities add to the quality of life, and direct access to major thoroughfares makes it easy to travel further afield, whether you're going to the airport, US border, or commuting to downtown Vancouver, Surrey or the Fraser Valley.
Sunstone: North Delta's landmark master-planned community
North Delta's landmark master-planned community, Sunstone, will forever be beautiful and tranquil. Now almost complete, it has over 10 km of walking trails, open green space and a fully sustainable lake. It is also designed in such way that local traffic cannot cut through the community making it a peaceful place to live. From Sunstone, you can walk to the nearby Sungod Recreation Centre and easily connect to boardwalk trails in the Delta Nature Reserve and Burns Bog.


Sunstone Village: The Final Piece
Completing the charm and ambiance of the Sunstone community is a village center that will be home to a variety of shops and services, as well as a pharmacy and bistro.
Retail at Sunstone Village
The much-anticipated village retail will be available for lease as part of the final phase of Sunstone. Included will be a variety of shops and services, such as a pharmacy and bistro, conveniently located within the community and easily accessed via pedestrian pathways.
---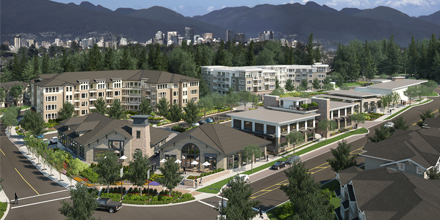 Apartments at Sunstone Village
This collection of 70 quality rental apartments offers a unique opportunity to live in the sought-after community of Sunstone without tying up equity. Interiors are spacious, nicely finished and have plenty of storage. Residents also benefit from easy walkable access to a variety of amenities, including the retail shops in Sunstone Village, making it a convenient place to live.

The Apartments at Sunstone Village is a community for those aged 55+, thanks to a covenant established by the Municipality of Delta to meet growing demand for this type of accommodation. Residents enjoy private, low maintenance living with optional meal and cleaning services, allowing them to live independently. On-site amenities include a full dining room and large garden patio, as well as a flexible amenity space and outdoor terrace on the second level: all inviting places where residents can socialize with neighbours and entertain friends.

*To qualify at least one resident must be aged 55+